Personal Profile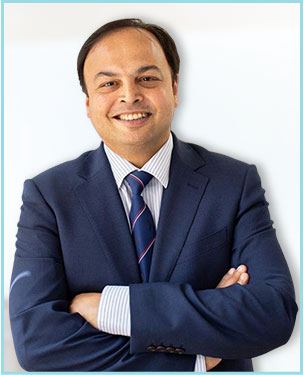 Mr. Parijat Bhattacharjee is a Consultant Gynaecologist (with special interest in Minimal Access Surgery & Fertility) in London with more than 20 years of experience. He is the Lead for Gynaecology Cancer Services in London North West University Hospitals Healthcare Trust.
He believes in giving one to one, personalised care to women with complex gynaecological problems including Infertility, menstrual irregularities and pelvic pain which includes endometriosis, polycystic ovarian syndrome, fibroids and ovarian cysts.
His special interests are Infertility and Minimal Access Surgery (Laparoscopic and Hysteroscopic surgery). He believes all women are different and that each individual need to treated differently. He also thinks that during physically and emotionally stressful times for the women and her family, one needs to spend time, not only to assess the problem but also to support and help them better during the treatment.
Most women are extremely busy and often don't have enough time for themselves. To overcome this problem, Parijat offers a one – stop service where a detailed consultation, examination, investigations including cervical smear, swabs and blood tests are done. He is a senior trainer in Gynaecology ultrasound and offers ultrasound scan at the same appointment. Therefore, a management plan (medical, surgical or expectant) can be formulated in consultation with the lady at the same appointment.
Parijat has consulting rooms in Clementine Churchill Hospital in Harrow & Bishop's Wood Hospital in Northwood & Bushey (North West London), Syon Clinic (West London), HCA Clinics of Wellington Hospital in Chiswick & Elstree offering his patients flexibility.
He primarily operates at the Clementine Churchill & Bishop's Wood Hospital in North London, Wellington Hospital in Central London.
Procedures/ Surgery
He performs the following procedures :
Laparoscopy : Hysterectomy (removal of uterus), Myomectomy (removal of fibroids), ovarian cystectomy, oophorectomy (removing ovaries), Salpingectomy (removing fallopian tubes, surgery for endometriosis and pelvic pain, adhesiolysis (removing scar tissue), sterilisation, diagnostic: for infertility, pelvic pain, tubal surgery .
Hysteroscopy (outpatient and inpatient) : Diagnostic for irregular or heavy vaginal bleeding, Transcervical resection of fibroids and polyps, Endometrial ablation, removal of uterine septum or adhesion, insertion or removal of Mirena IUS/IUCD, Postmenopausal bleeding (to exclude cancer).
Cervical circlage
Hysterectomy (laparoscopic or open)
Myomectomies (Removal of fibroids)
Surgery for early pregnancy problems (miscarriage, ectopic pregnancy)
Ultrasound scans
Early pregnancy problems (Miscarriage, ectopic pregnancy; bleeding, pain; problems in previous pregnancies, recurrent miscarriages)
Pelvic pain (endometriosis, pelvic infections, scar tissue, tubal problems, unexplained),
Bleeding (irregular, heavy, post or peri menopausal) Infertility
Ovarian cysts and ovarian cancer screening Miscellaneous (missing coils/ IUCD, polycystic ovaries)
Hydrosonography (to instil fluid inside the uterine cavity to see polyps / fibroids better)
Membership of Specialist Organisations
British Society of Gynaecological Endoscopists (BSGE)
European Society of Gynaecological Endoscopists (ESGE)
British Fertility Society (BFS)
British Gynaecological Cancer Society (BGCS)
British menopause society (BMS)
National Association of Premenstrual Syndrome (NAPS)
International Society of Reproductive Surgery (ISRSFT)
Faculty/ Trainer:
BSGE (British Society of Gynaecological Endoscopy)
RCOG (Royal College of Obstetrics & Gynaecology)
ISRSFT (International Society of Reproductive Surgery & Fallopian Tubes)
LSTM/ WHO: Liverpool School of Tropical Medicine/ World Health Organisation)
London Deanery
Other Senior positions
Reviewer, Cureus (2021-)
Reviewer, RCOG Annual Scientific Meeting, Oman (2020)
Editorial Board Member, Ultrasound (BMUS), 2018-2020
Reviewer, RCOG Annual Scientific Meeting, India (2014)
Reviewer (Abstracts): BMJ (British Medical Journal)
DRCOG subcommittee member, RCOG
Treasurer, International Society of Reproductive Surgery (ISRS)
Examiner, MRCOG and DRCOG
Advisor, Brun, School of Biodesign, AIIMS